History
1975 MKII Capri that I bought in 2000. Previous guises include a worked n/a 2.0 pinto engine. Nothing grand, I just had a way too big cam and a re-jetted 32/36 with flows and exhaust. Thought that was pretty cool at the time but I didn't really know what I was doing.. at the time I also lowered it and re-painted it and had some aftermarket rims.
Few years later I met Simon and we turbocharged the 2L using a custom made EFi manifold and VR4 intercooler and a small T25 blowing 11psi on a stock 2L. Made 140hp at the rear wheels.
Drove that round for another year or so before building a more wild engine including forged pistons, 205 block, turbo cam, T25G turbo, fully ported big valve head with a cosworth gasket. Pushed 18psi through that and made 180hp at the wheels. I think it could have done a lot more with a bigger turbo and a better exhaust system. But decided to sell that engine and current build is a 5.0 EFi V8.
For more information regarding the turbo engine: >More Info
Engine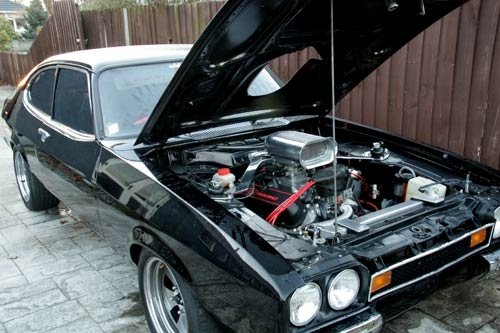 5.0i Windsor V8, Hilborn scoop, Holley 900cfm throttlebody injection unit, Air-Gap intake manifold,
Edelbrock RPM alloy heads, Scorpion 1.77 roller rockers Comp Cams double valve springs,
1.90 / 1.60 stainless valves, compcams lifters and hardened pushrods, edelbrock guideplates,
Kelford roller camshaft, lightened rods with ARP bolts, Duratec pistons 9.5-1 comp, ARP head bolts with Felpro Oringed headgaskets. Baffled Bronco sump pan.
Engine control is a LINK LEMV3. Spark is MSD BlasterII with Accell 8.0mm leads. Reduction-gear starter motor, 100amp GM alternator, modified 5.0 Serpertine pulley setup.
Cooling: Custom alloy radiator, twin thermo fans, transcooler kit. >More Info
Performance: 310hp at rear wheels 316lbft @ 4300rpm (428nm) >Dyno
Driveline
Transmission: Borg Warner T5 5-speed manual with quick shift.
Mustang single peice drive shaft with HD universals. Diff is a Narrow 3L Atlas Capri diff,
3.22 ratio. Anti-Tramp rod setup. >More Info

Brakes
Vented 2.8i Capri front discs, AP 4pot calipers, 9" rear drums.
Suspension
Lowered custom springs shortened struts, reset rear leaves,
Monore front and Pedders rear shocks, strust brace.
Interior
um.. front seats are from a Batman, leather dash, new carpet etc. White dial kit,
racing steering wheel etc. fire extinguisher.