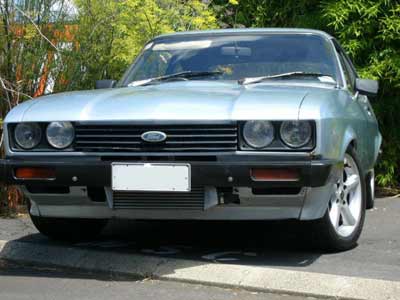 VECHILE: 1984 Ford Capri Sport MK3
ENGINE: Ford 2L SOHC Pinto Turbo
-Custom EFI manifold.
-Nissan 68mm throttle body.
-8 injectors (One row of 380cc GSR and 1 row of Toyota Gtz Levin 350cc injectors) -Hybrid T04/TO3 turbo, -VR4 front mount intercooler,
-LINK version 3 engine management.
-Sierra locked electronic dizzy, Subaru electronic boost solenoid, VR4 igniter pack, 13B coil.
-Head Exhaust side Ported and polished, and combustion chambers (inlet untouched), up rated valve springs, FR21 fast road cam. De-compression plate. Adjustable cam sprocket, - Block Sierra 205 Forged TRW pistons, shot peened 205 rods 6.5-1 compression 1.5 bar (21 psi), Up rated oil pump, O ringed block., steel 4.5kg dowelled flywheel. 21/5' exhaust.
COOLING
-2lt STD Capri radiator. 10 inch electric fan.
FUEL
-Bosch fuel-pump, 3/16 steel lines. Aluminum Surge tank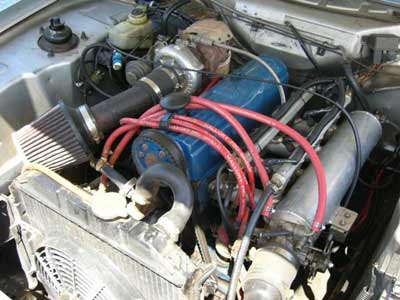 DRIVETRAIN
4 puck Kevlar clutch, Sierra Type 9 5speed g/box. One piece drive shaft. 8 & ¾ inch 10 bolt falcon Lsd 3.22:1 ratio.
BRAKES & SUSPENSION
AP 4pot front calipers. Standard falcon rear drums, 2.8 injection master cylinder and booster.K.Y.B. shortened front inserts, Adobe springs, standard shock housings, Single leaf elliptic rear with 3 extra leafs bolted to it., Double sway bar (not on at moment). 2 link diff rods.

BODY:
Factory MK3, all removable panels replaced, re sprayed in 2004 Subaru legacy silver, de-badged, std foam rear spoiler. Louvered bonnet.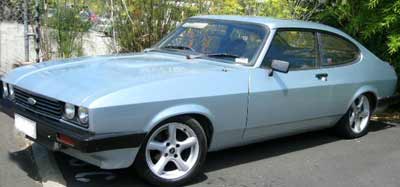 ROLLING STOCK:
4x108 offset 15x6.5 ROH Reflex rims, 195-50-15 Tires.
INTERIOR:
STD 2.8inj interior, wind back sunroof, gauges, Race drivers seat, STD passenger and rear seats, Decent Alarm.

PERFORMANCE
At the moment 188Bhp 140kw dynoed at the wheels at Torque performance in Auckland on 18psi estimated 250hp at engine. 15.0 at Meremere with pump gas and shit tires. Fairly confident will hit 14's as soon as I put new tires on. Raced at Pukekohe before it was injected no times recorded.

PREVIOUS MODS
I brought the car as a pretty rough runner, most panels were rusty as the car was in various shades of primer and was not looked after, the main reason I brought it was because it had factory 2.8inj interior and all underneath was rust free and straight, I replaced every panel that I could, my mate (Richie, big thanks) gave it a quick lick of paint to keep it going for a little while. I got some wheels, sorted suspension and drove it for about 6 months before blow through turboing it with some help from my flat mate ( Brendan at Nite parts and Lance). I blew a couple of blocks up (ring landings cracked big chunks out), and eventually got a new block made up as described above. I went through all the dramas and got it legally certified for being turboed as well. Since then I had no problems with the blow through setup after until I boosted it over 10psi , and eventually after pushing the limits with jetting and fuel setups was restricted with the fact that the float bowl was too small and emptying quicker than it could be filled through the needle valve. From there I made up injection manifold after e-mailing (harassing) Tizzy for info, and came up with my setup. I have been pretty happy with the new setup since.
FUTURE MODS
Bigger turbo( More boost), strut brace, tidy body, re spray engine bay, oil breather. Get anti-lag setup on the Link. I have also purchased a 3l radiator and will hopefully get around to re-coring it soon with a 3 row setup instead of my STD 2 row 2l radiator.