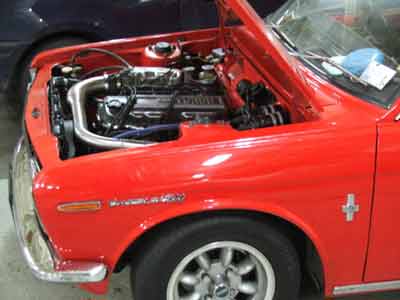 MAKE: Datsun
MODEL: 1600
YEAR: 1973
ENGINE: Nissan Z18ET.
Completely rebuilt including t3 turbo, modified L16 sump,mild cam, modified intake plenum, custom turbo intake piping……
Subaru water to air intercooler about to go in…very soon.
Running standard 7psi boost but will be turned up to 14psi once intercooler and fuel map interceptor goes in. Just received cert.

DRIVETRAIN: Z18ET 5 speed gearbox, with modified mounting bracket.
Shortened and balance driveshaft.
S13 Nissan Silvia radiator and fan
Nissan 280zx fuel pump, 400psi fuel line.
Alloy custom surge tank(currently being fitted)
BRAKES & SUSPENSION: Lovell superlow springs, with shortened shocks up front.
240k brake booster
Metal King high temp brake pads.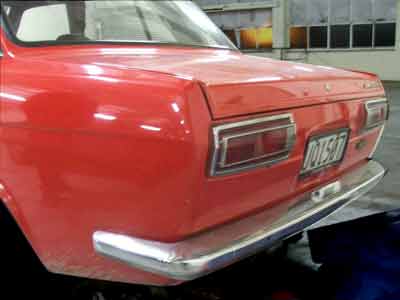 BODY: Panel and paint (previous owner)
Porsche Red Paint
American market fully red taillights

ROLLING STOCK: Performance Superlites, 13 x 7inc 205 x 13 Toyo Proxies
INTERIOR: New carpets
S13 Nissan Silvia seats, Datsun sports steering wheel, Autogauge digital oil pressure, boost gauge, Jaycar fuel mixture gauge
Recovered dash, Kenwood head unit and 4inch front, 3ways speaker back, Sony 15inch 800w sub and 222w amp in the boot
COMMENTS/FUTURE PLANS:
"Turning up the hp in about 6 months, once fuel map comp and intercooler are in.
Interior is getting overhaul soon, with black vinyl buttoned centre console being added…etc"