MAKE: Datsun
MODEL: 1600
YEAR: 1970
ENGINE: Nissan CA18DET, fresh rebuild, GTiR T28 turbo, RB20DET coil packs, Z32 air flow meter, 3" mandrel exhaust, VR4 injectors and front mount intercooler, N/A SR20 throttle body, 10mm fuel lines, 700HP NOS fuel pump, stainless surge tank, re-tuned factory ECU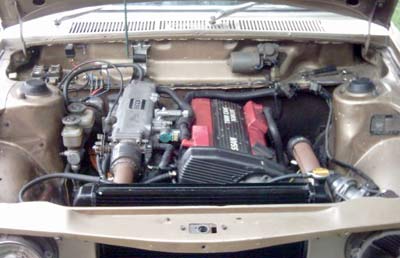 DRIVETRAIN: Factory CA18 5 speed, 280ZX 4.1:1 R180 rear diff
BRAKES & SUSPENSION: 280ZX front struts and brakes, KYB shocks and king springs on all corners, adjustable front camber.
BODY: Champaigne gold paint, Battery mounted in boot
ROLLING STOCK: 16" x 7" Advanti Aztec mags with Yolkohama 205/45/16 tyres
INTERIOR: Subaru SVX seats front and back, 280ZX column switches, 3" tacho, 2" oil pressure/boost/air fuel ratio/ gauges, custom white faced speedo converted into kph, Nissan sunny centre console, turbo timer, Blitz boost controller, Uniden 5star alarm
COMMENTS/FUTURE PLANS: "Made 178rwHP on the dyno with the old factory turbo and air flow meter…..should get it back on the dyno soon, and hope for around 220hp at factory boost. Plans will include floor mounted handbrake and rear disc conversion, decent panel and paint, more power!"