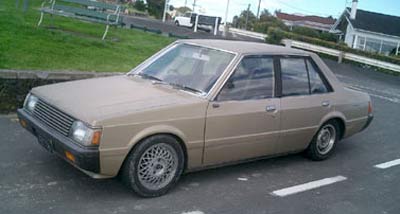 VECHILE: 1981 Mitsubishi Lancer
ENGINE:SOHC 4G63BT 2 litre turbo
TC05 turbo
2.5" mandrel bent exhaust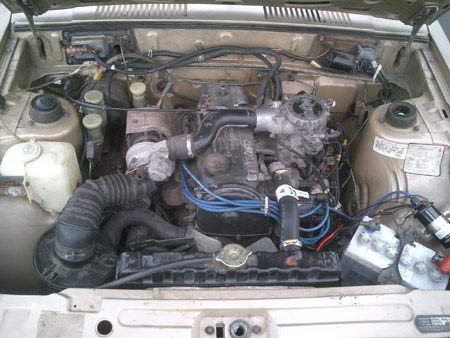 DRIVETRAIN
EX1800 Gearbox
EX1800 Rear end
Non LSD diff centre
2 piece driveshaft
BRAKES & SUSPENSION
EX1800 solid discs in the rear
EX1800 front struts with vented discs
3" compressed springs
early mirage rear shocks
shortened front struts
custom RCA's (Roll Centre Adjusters)
all calipers freshly rebuilt with new pads
BODY:
Stock poo brown for that sleeper look
ROLLING STOCK:
15" x 6 ROH mesh type wheels (although at the moment I've got
16" x 7's on the back till I sort some tyres. Good for traction too).
INTERIOR:
black EX1800 GSR interior
Boost gauge
Recaro fishnet front seats
Sony Xplod head unit and 6x9's

COMMENTS:
"In the near future I will be installing my TC06 turbo, hopefully with TD05 14G internals (if I can find some cheap enough). I've also got a couple of series 4 intercoolers I've got to get around to welding together and front mounting and will be installing a boost tap and a blow off valve (probably plumbed back for the stealth effect) to get a bit more power. Then it will be off to the dyno and drag strip to see what she'll do. Hoping for 13's on this engine and I'll start building up a 2nd engine with multipoint injection and a decent turbo on the side."